PSBA's Annual Field Day is a much anticipated event – offering the chance to learn from nationally recognized beekeeping experts and to get hands-on experiences in the apiary. Most of all, it is a super-fun event that shouldn't be missed!
2018 Field Day will host featured speaker Tammy Horn Potter, State Apiarist for Kentucky State.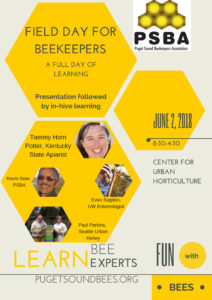 Click here to register for 2018 Field Day!
---
Read about our past Field Days and view the galleries below. Field day offers both lecture and hands-on learning for beekeepers of all levels. Don't miss out on all the fun and learning!
---
Past Field Day Info:
PSBA Field Day 2017 featuring Gary Reuter Gallery and Reviews
PSBA Field Day 2016 featuring Katy Lee
PSBA Field Day 2015 featuring Peter Borst Gallery and Reviews
PSBA Field Day 2014 featuring Zachary Huang Gallery and Reviews
PSBA Field Day 2013 featuring Randy Oliver  Gallery and Reviews