Puget Sound Beekeepers Association is committed to educating both beekeepers and the public about honey bees.  One way we do this is by curating interesting and renowned speakers for our meetings. We hope you enjoy this year's schedule of speakers and topics!
All meetings are free and open to the public.
---
PSBA Online Meeting Schedule
Please see the calendar below. Regular monthly meetings are typically on the 4th Tuesday of every month with exceptions. There is NO regular monthly meeting in July, November, and December. In July we hold our annual picnic, and in November we hold our annual potluck and business meeting.
Regular Monthly Meetings-online
Regular monthly meetings are currently held online. Please check the Calendar for links. Hybrid meetings will begin in April of 2023. If you miss a meeting or want to watch a lesson or speaker again, the PSBA YouTube channel has most recent recordings.
Typical format:
– 6:30 Pre-Meeting Lesson
– 7:00 PSBA Announcements
– 7:30 Main Presentation (check the calendar for topic/speaker)
Yearly Business Meeting
The November business meeting is held at the Graham Visitors Center at the Washington Park Arboretum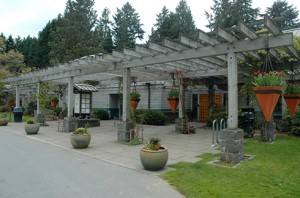 Graham Visitor Center at the UW Arboretum
PSBA Apiary & July Picnic
The Arboretum is also home to the PSBA Apiary, which is behind the greenhouses where we hold some of our classes, events, and our July picnic.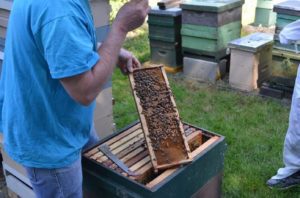 PSBA Apiary Hive Inspection
Sign up for blog email alerts to be the first to hear who will be speaking in advance!