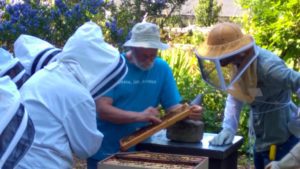 Thanks so much to those who came to PSBA's Field Day on Saturday May 30th 2015.
We had great weather and everyone seemed to enjoy themselves while learning something new.

Many Thanks also to our presenters who offered their expertise and time to expand our learning about bees and beekeeping:  Peter Loring Borst (featured presenter) along with our afternoon lineup of experts:  Tim Hiatt of Hiatt's Honey, Rusty Burlew of Honeybeesuite.com, Will Peterman of Beesearch.org, Danny Najera PhD – PSBA and Greenriver Community College, Kathy Cox – PSBA Board member.
Our sponsors made the day special too, with food from Whole Foods Interbay and door prizes offered by Sky River Winery, West Seattle Nursery, and City People's Garden Store.
PSBA runs on Volunteer energy and enthusiasm – we couldn't have done this event without the hard work our volunteers who often work many hours behind the scenes and well in advance of Field Day to ensure our guests and presenters have a delightful experience at this special event. Give these folks a big thank you next time you see them!
Bruce Becker
Nancy Beckett
Krista Conner
Gerardo Dilillo
Lauren Englund
Kevin Gow
Josephine Laing
Laura Lovell
Christine Ranegger
Jeff Steenbergen
Maureen Sullivan
Brian Talbert
Gallery of the event – if you have Field Day pictures to add please send them to editor@pugetsoundbees.org
[pb_slideshow group="8″]