Dr. Thomas D. Seeley will be at the Pacific Science Center Thursday evening, May 16th, to present his new book, The Lives of Bees. There will be a book signing after the presentation, and PSBA volunteers will be onsite to answer questions about bees.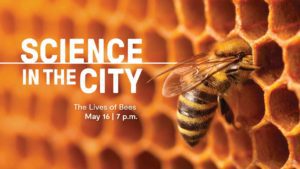 About the book:
Humans have kept honey bees in hives for millennia, but only recently have we begun to investigate how these industrious insects live in the wild. As honey bee populations in beekeepers' hives drastically decline worldwide, this knowledge is more vital now than ever before. On May 16, Dr. Tom Seeley, will share the captivating story of what today's scientists are learning about the behavior, social life, and survival strategies of wild honey bees and how this information can be applied to beekeepers' colonies.
About the speaker:
Thomas D. Seeley is the Horace White Professor in Biology at Cornell University. His research focuses on the behavior, social life, and ecology of honey bees. He has been an avid beekeeper since he was 16, hence for nearly 50 years. He is the author of several books on bees, including Honeybee Democracy (2010), and Following the Wild Bees (2016), and The Lives of Bees: The Untold Story of the Honey Bee in the Wild (2019). He lives in Ithaca, New York.