Volunteering with PSBA is a rewarding experience – getting to share information about honeybees, honey tasting and seeing eyes light up at the sight of our observation hive is just plain fun!  Build professional and personal skills and gain confidence in your beekeeping practices at the same time! Even if you are a new beekeeper PSBA can always benefit from a smiling face and willingness to help.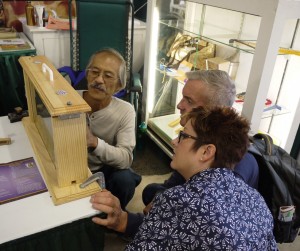 Learn and Volunteer at the same time – Apiary Work Parties are a great way to learn and help PSBA too.  See apiary work party dates on our calendar and signup today!
Volunteer at a PSBA booth in the community – share your love of bees with others!  We usually offer honey tasting, honey sales, an observation hive, and talk to people about honey bees. See booth event dates on our calendar and signup today!
Volunteer by interest – Use your passion and skillset to help PSBA!    Review opportunities on our Volunteer page and Contact volunteer4psba@pugetsoundbees.org for more info or sign up where links allow it. If you have skills to offer that aren't listed – let us know – we can create an opportunity just for you!