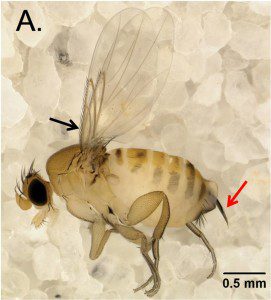 University of Washington, Department of Biology
The UW Department of Biology is supplementing the nation-wide ZomBee Watch program (https://www.zombeewatch.org) with our own local, intensified sampling effort. We hope to learn more about this interesting, newly recognized honey bee parasite. Please help by sending us suspicious samples.
Contact us directly for a sample kit: Dr. Evan Sugden, UW Biology, easugden@u.washington.edu, or his assistant, Ashley Powell,  aspowel0@uw.edu.
More info is at https://www.zombeewatch.org.
Locate bees that show symptoms (flying at night, disoriented on pavement, near porch lights or other lights) Collect bees using tweezers or forceps and put them in vials. Firmly plug the vial with some cotton to keep the bees inside.
Fill out the data form on the back of this Zombee_sampling_form, one per sample (per location and date). We must be able to assume that the data pertain to the bees in the vial. If you send more than one sample, tape each sample to a separate copy of this form.