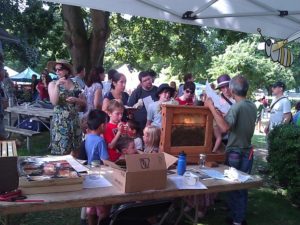 September 12th is Seattle Tilth Harvest Festival and we need volunteers.
Did you know PSBA raises funds via sales of honey?  We couldn't host all our great meeting speakers and offer reasonably priced classes and events otherwise.  This Saturday is a chance for you to help PSBA's mission while having fun too.  This weekend is Seattle Tilth's Harvest Festival which is one of the biggest honey sales opportunities for our organization.
The event is well attended and our booth is sought out by attendees so they can taste and buy some delicious honey while helping our organization in the process.  We currently have only 3 volunteers signed up for the entire day!   A minimum of 6 volunteers is really needed, but more are welcome!  No experience needed, just a smiling face and willingness to have fun.  register here.
The Washington Fair in Puyallup starts on September 11th  and runs through September 27th. Local beekeeper associations like PSBA offer to help staff the bee booth sponsored by Pierce County Beekeepers Association.  Volunteers working a 4 hr shift get free parking and entry to the fair.  So why not checkout the fair and talk bees – it's a bunch of fun.   Registration is managed through Pierce County Beekeepers – contact info on our event calendar.