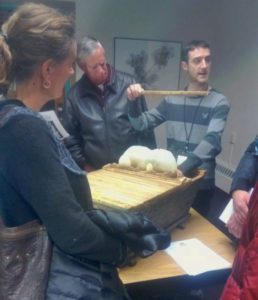 Are you ready to kickoff the 2016 beekeeping season?  If you aren't quite ready, don't worry – you're probably not alone. And lucky you, there's still time to assess your situation and prepare for the year, with a little help from your friends at PSBA.
Our January monthly meeting on the 26th will get you moving in the right direction.  It will be a different format than our usual meetings, it will be in science fair format, with several learning topics and experts on hand to answer all your questions and to help you get signed up for classes.  (We'll of course start the evening off with our free beekeeping lesson, so show up at 6:30 for that.)
The meeting location and schedule can be found here, along with more details of topics you'll learn about at January's meeting.  Some highlights:
Danny Najera – The Waggle Dance and Hive Monitors
Our ability to help better beekeeping depends upon collecting data and beekeeper participation. Come learn what PSBA is doing for in-hive monitoring and how you can help.
Kit Hiatt & Krista Conner – Volunteering with PSBA
Learn about volunteer opportunities and sign up to help PSBA achieve our mission!  Sign up to help with apiary work parties, honey sales events, learning events (like field day!), swarm catching, speaking opportunities and more.  Sign up and get involved with PSBA!
Jon Tuite – Bee Data
Come see what happens when a data geek gets his hands on streaming data from 11 different local hive monitors.  Learn how we can make useful information out of the thousands of collected data points, and use it to make decisions on how we can better keep our hives alive.
Jeff Steenbergen – Top Bar Hives: Alternative Hive Style Using Natural Comb
With this hive style the bees build comb from bars that make up the "roof" of the hive in a horizontal direction (like they would in a fallen tree).  Inspections allow you to minimize colony agitation because only a small portion of the hive is exposed at any given time.  Once set up, top bar hives eliminate the heavy lifting associated with beekeeping and also the need to store a lot of equipment in the off season.
Kathy Cox – Master Beekeeping Certification
Come talk to Kathy and learn how you can become a certified Master Beekeeper!  Kathy will tell you about the program, and how you can reach your apprentice level, simply by attending our meetings, or attending one of our beekeeping classes this season.
Nancy Beckett – Honey Vendor
Come get some of our delicious club honey!
Brian Talbert – Equipment and Tools
Learn about the equipment and tools of the beekeeper.  Come see demonstrations and ask questions about what is needed to provide a safe home for your bees.
Sandra Hannes – Oxalic Acid Vaporizing for Mite Control
A new method of getting rid of those pesky Varroa Mites with little disturbance to the hive.  Come talk to Sandra to learn how you can start using Oxalic Acid to cheaply treat many hives, in a short amount of time.
And more!