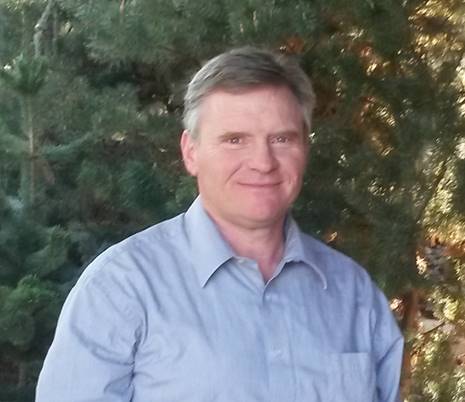 PSBA's field day on May 30th will offer afternoon sessions in the apiary where you can learn from local beekeeping experts like Tim Hiatt,  a second-generation beekeeper from Ephrata, WA. He and his 5 brothers run a large-scale pollination and honey production business in Washington, California and the Dakotas. His father taught him beekeeping before the arrival of varroa; since then, bee research has become essential in managing their bees.
In the early 1970s, he began beekeeping by unloading extractors and fixing broken ears (frame ends), graduating to running the uncapper and then harvesting honey. By 1980, he was taught to make divides and check hives. Since then, he's added management of foreign temporary workers, accounting, federal and state regulatory compliance, and business management to his to-do list. Of his responsibilities, he'd rather be making divides or harvesting honey.
Tim is a member of Washington State Department of Agriculture's Apiary Advisory Committee, the National Honey Bee Advisory Board, and is legislative chair of the Washington State Beekeepers Association.
A few more presenters (with more to come) for our afternoon in the apiary:
Rusty Burlew of HoneyBeeSuite.com
Daniel Najera, Entomologist – PSBA Research and Education Chair and Adjunct Faculty at Greenriver Community College
Field Day Registration is $50/person or $70/household of 2, and includes lunch.  Registration is limited so signup today to ensure your spot!