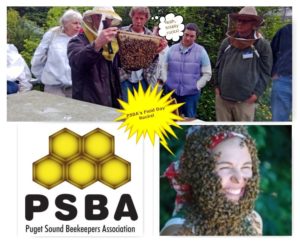 Are you ready for PSBA's Field Day this year on June 4th?
If you've been on the fence about registering, please do so  – early registration helps us plan, and it ensures you have a seat for the biggest beekeeper event of the year for PSBA.
Each year we strive to improve Field Day, and this year is no exception. Based on participant feedback, the format of our afternoon learning sessions will change slightly.
What's new?  In the afternoon – participants will get to explore topics in more depth via longer and more focused sessions with our expert presenters. In the past,  folks told us they felt rushed and overwhelmed by the many learning topics and pace of the schedule. With this new format, we hope to improve everyone's learning opportunity, and encourage previous attendees to return for the new experience.
This year's afternoon presenters include our featured presenter, Katy Lee, who will offer insights into hive management via inspections in our apiary. In addition, participants will delve into the topic of Palynology with Dr. Paul Arnold to better understand the sources of pollen showing up in our local honey. Bring a sample of your honey!
Rusty Burlew, a local beekeeping blogger and consistent crowd favorite, will offer participants an in depth understanding of varroa mites, how to spot them, and hive management tips to minimize impacts from varroa mites.
We'll have our fun gadget making tent and PSBA honey tasting and sales, as usual.
See you there!