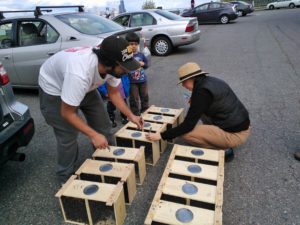 Spring is just around the corner and now is the time to get in your 2019 bee orders. PSBA has reviewed several bee package and nuc vendors, and have put together the following comparison chart for you to review their offerings side by side. Click here to view the PDF.
Many of these vendors will have tables at the next few monthly meetings (Jan 22, Feb 26, March 26) if you would like to talk to them in person. You can also reach out to them directly and place an order. Just be sure to let them know you were referred by PSBA for the best pricing.
Never ordered bees before? Not sure what a nuc is? We have answers! Attend the beginner lesson at our monthly meetings for a half hour of free education! Beginner lessons are an excellent way to get to know your fellow beekeepers, get answers to questions, and stay on top of what your bees are planning next. Our next lesson is January 22nd at 6:30PM (additional meeting info can be found on our website here).
We've also put together the following resource to help with some getting started questions and terminology. Click here to view the PDF.