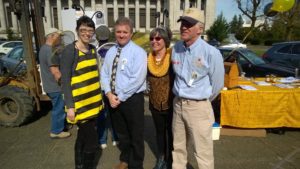 On March 5th 2015 over 20 beekeepers attended the first Honey Bee Awareness Day on the steps of the Legislature in Olympia.   The event was considered a success by all and plans for future events are already being discussed.
One of the bee friendly bills,  HB 1654, recently passed through the House and is now on its way through the Senate.  You can watch the video of its passing the House here where District 21 Representative Strom Peterson (the main sponsor of the bill) even gets a gavel from the Speaker of the House due to having 'exhausted (his) quota of puns'.   We are happy it passed Yeas: 67 Nays: 31 Absent: 0 Excused: 0.
Members of several beekeeping associations and from as far away as Dayton, WA were on hand to talk to legislators and was a great example of working together – thank you to beekeepers from Puget Sound, Pierce County, Olympia, West Sound,  and Washington State Beekeepers Association. We were also joined by a New York documentary film producer Nils Aucante who was interested in our efforts.  His documentary will be completed by the time of the Paris conference on climate change to be held in November, 2015. The Capital Press was there too, and published this article about our efforts.
Most of the day was spent distributing honey sticks and encouraging support for the two bills: HB 1654 and SB 5017.  Reception to our group was warm and we were met with smiles at every turn – who can resist bee costumes and honey??  I'll admit, standing there in my bee costume – amidst lobbyists in their dark suits and navigating the the marbled halls of the legislature- was not as uncomfortable as it sounds and is certainly something to jot down in my "did that" book!
If you'd like to read more and stay abreast of updates from the Washington Honey Bee Work Group, you can visit WA4bees.org (now archived) and subscribe to their mailing list, or subscribe to the WASBA blog
The latest status of the two bills can be found at the leg.wa.gov site: HB 1654 and SB 5017
Some additional pictures of our day at the legislature:
[pb_slideshow group="6″]