This year, I want to be a better beekeeper and bee steward. 2014 marks my fourth season of bee herding and while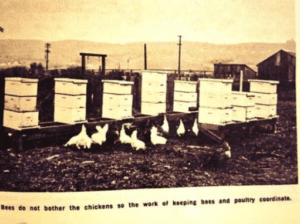 earning my Apprentice Badge adds a nice bit of flare, beekeeping and stewarding is more about doing than passing a test, a lot like life and career …. There is no GPA in the hives, its pass or pass with "opportunity" for improvement. I don't think you can really fail. Even if your hives die, your honey is full of bee legs and you get stung on your lucky mole 13 times – you still help educate friends and families about bees, aid in pollination and will have frames of honey ready to feed back to your next package in the spring (unless disease took the bees). Getting stung has some reported health benefits, although it might all depend on where the mole is located. It is an opportunity to try out a new style of protective gear. See, we turned that swarm upside down.
Worker Bee Tasks
Keep entrance clear of debris, snow, dead bees etc
Think about feeding, but do your research. Here's what I did.
Plan your pollinator friendly garden
Queen Bee Ideas
Start thinking about how many hives you want to run in the spring. Will you need to order package bees, additional equipment? This past year I had three hives (1 top bar, 2 Langstroth) in the backyard, 4 hives 2012 (2 top bar in yard, 2 Langstroth on balcony) and the inaugural year of 2011, I had 2 top bar hives in the backyard.
Reflect on what you learned last season.

Make a honey recipe. Here are just a few simple ways I have used honey in recipes. Sky is the limit.
Drone On
Read a good book. I recommend The Secret Life of Bees by Sue Monk Kid. The deep heat of the summer and this story of growing up, forgiveness and marching to your own drum will warm you head to toe. Already read it or viewed the movie? Read Margaret Morely's Bee People (1899).
Watch More Than Honey. It has amazing footage, will intrigue beeks and unbeeks alike. Pay to download. It's worth it.

Play beekeeping roulette. Flip through your beekeeping texts and chose random passages. Compare and contrast what you find. My favorite book for this? ABC and XYZ of Bee Culture 1975.
Pollinator Champion
You can promote bee keeping and pollination in so many ways, other than keeping them personally.
Research local bee groups or companies that are looking for yards to host bee hives, some farms or apiaries have hands classes for you to learn about bees and test the water without the commitment.
Learn about pollinator friendly plants and gardening practices.
Just for fun
Download a free bee calendar. Bonus – one of my photos happens to be included. Hello, Mrs. June 2014!
Remember that your geographical location will influence much of your hive management techniques, so keep that in mind when researching. Connect with a local group or beekeeper. I keep bees in Seattle, which seems to be damp and soggy and not too cold this time of year, compared to say the Midwest, where the bees are experiencing below freezing constantly and IMHO better hibernated. I think my bees don't settle down for a long winters nap very well and as a result struggle through the winter.
"How did the bees ever become equated with sex? They do not live a riotous sex life themselves. A hive suggests cloister more than bordello." – The Queen Must Die: and Other Affairs of Bees and Men