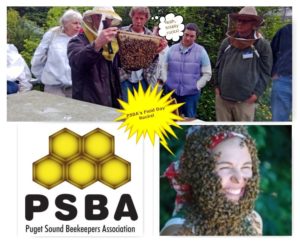 PSBA's annual Field Day for beekeepers is coming up on June 4th. It is a full day of learning and fun for new and experienced beekeepers alike. We hope you will consider attending, or perhaps supporting the event in other ways…
In fact, we could use help with the following items – as a donation/sponsorship, or as a loan for the day. If you have any of these items, or connections to someone who does, please let us know:  All gear loaned will be returned promptly.
Tents – 10×10 pop up style.  We need 8-10 of them for learning stations outside.
Tables – folding kind,  Need 8.
Swag – It's always fun to take something home – sponsors of goodies that beekeepers will enjoy are encouraged to get in touch
Food/Snacks – We are seeking sponsors of our breakfast snacks and lunch.
Honey Samples – our afternoon presenter, Paul Arnold, will analyze pollen in honey – if you have a sample to offer which you want analyzed please bring to the event, or drop by in advance. (get in touch to arrange drop off)
See you at Field Day!