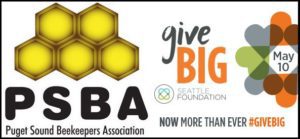 Hello fellow bee friends, keepers, and enthusiasts!
Today is the day to make an impact! Today on Wednesday May 10, from 12:00 a.m. to 11:59:59 p.m., PSBA is participating in Seattle Foundation's GiveBIG fundraising event! Your donation will go a long way in helping us educate local beekeepers and community members, and promote safe practices for the well-being of our pollinators and ecosystem.
We hope you will support us HERE by making a donation today on May 10! Please also help our efforts by promoting the event to friends and family!
Thank you all for your continued generosity and support!
Sincerely,
Puget Sound Beekeepers Association
https://pugetsoundbees.org
Facebook