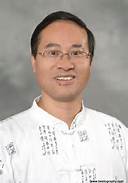 PSBA is hosting a special Saturday Workshop with Dr. Zachary Huang, PhD professor of Entomology at Michigan State University on May 17 2014.
This full day workshop will feature both a morning indoor session with lecture on several beekeeping topics and an afternoon outdoor hands-on learning session in our apiary; both sessions will feature Dr. Zachary Huang (as well as other speakers and learning opportunities).
Zachary Huang, PhD Entomology of Michigan State University will cover honeybee pheromones and relevance to beekeeping; Effects of Nosema on honeybee behavior and physiology, and varroa biology.
Dr. Huang is known for developing the social inhibition model (at UIUC), the mitezapper (MSU), his cyberbee.net  (started in 1997 but developed mainly at MSU), and award winning photographs. He was awarded the J.I. Hambleton Award for Outstanding Research by the Eastern Apicultural Society of North American Inc. August 2008.
---
Date:  Saturday May 17, 2014
Time:  9:00 a.m. – 4:00 p.m.
Locations:  Graham Visitor Center & PSBA Apiary
Register now to take advantage of the early bird discount:
| | |
| --- | --- |
| Early Bird (Before May 1st) Registration PSBA 2014 Field Day Individual | $53 |
| Early Bird (Before May 1st) Registration PSBA 2014 Field Day   Household of 2 | $73 |
| PSBA 2014 Field Day Individual | $63 |
| PSBA 2014 Field Day Household of 2 | $83 |
| PSBA 2014 Field Day Pay by check Individual | $60 |
| PSBA 2014 Field Day Pay by check Household of 2 | $80 |