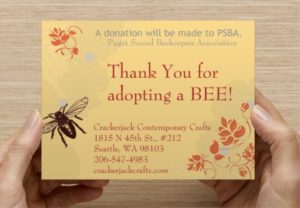 We received this invitation from Shirley at Crackerjack Contemporary Crafts in Wallingford and thought you'd like to know about it since it is a chance to benefit PSBA with your purchases of bee related products in their store this Saturday. Thank you to Crackerjack Contemporary Crafts!
---
Throughout the month of April, we are focusing on bees, and how their numbers are declining. These harbingers of spring and the essence of a lazy summer day, are in jeopardy, and we thought we'd like to help!
For every purchase of select "Bee related" products in the store, we will make a donation to the Puget Sound Beekeepers Association, and you will have Adopted a Bee!  Choose to buy a felted bee for your sofa, a bee bar hand lotion, beeswax candles, or any of a number of "bee things"!  Come see first-hand the benefits of beeswax to your skin on our Adopt a Bee Spa Event Day, Saturday April 18th from 12pm – 4pm. Enjoy a soothing, luxurious spa treatment for the hands employing some of our favorite skin care treats and all with a little help from the bees.
Crackerjack Contemporary Crafts
Wallingford Center, Seattle
1815 N. 45th, Suite 212
Seattle, WA 98103
206-547-4983