In this class you will learn about one of the top threats to honey bee health, Nosema. Evan Sudgen, Entomologist and UW Lecturer will explain everything you as a beekeeper need to know to help manage this parasite and keep your bees healthy.
Topics that will be covered: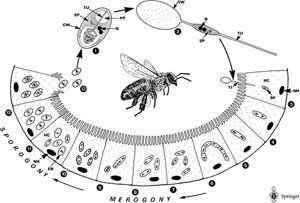 Introduction to Nosema
Why It's Important to Beekeepers
History of Nosema
Nosema Biology
New Aspects, including Nosema ceranae Introduction
Collecting Samples of Nosema
Techniques for Collecting
Lab Preparation
Examination
Management of Nosema
Detection in Hive
Analysis Overview
Treatment
---
Class Date and Time: Thursday January 15th 2014, 6:30 – 9:00 PM
Class Fee: $20 per individual
Class will be held on UW campus, Johnson Hall Room 122.  
Driving and Parking directions for UW Johnson Hall.