Have a garden you'd like a little extra help pollinating? Like the idea of helping honey bees in the Puget Sound area? Then PSBA's Backyard Beekeeping class is for you! This course is for those new to beekeeping or wishing to brush up on the basics. No previous experience or training is required.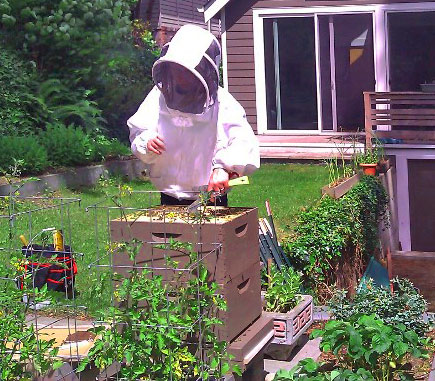 The format of the course is two successive Saturday classroom sessions including lecture, question and answer, and display of wooden ware and tools plus a separate hands-on outdoor Bee Lab on  April 26th 11:00 Am- 2:00 PM.
Class fee is $100 per individual and includes 8-hours classroom time, 3-hour Bee Lab, 2015 PSBA Membership and the WSBA Beekeepers Apprentice Handbook, Apprentice Test and Patch (if you pass the test!)

If you have already paid your 2015 membership dues, choose the "Member" button in registration.
Major topics covered include physiology of honey bees, bee behavior, the role of honey bees in plant pollination and contemporary agriculture, critical behaviors of the beekeeper, success factors, the typical beekeeping year, manipulations and procedures the beekeeper must know, harvesting honey, hive components, tools and equipment, colony health and treatment of diseases, and coping with common problems.
Bee Lab :  All students from our Backyard Beekeeping classes will join together for one learning-packed day for hands-on learning.  This Bee Lab will be broken out into two hands-on sections:

Bee Lab topics:   work in groups with experienced beekeepers learning how to work the hive and what to look for when you're in there.  Learn how to light a smoker, build hive boxes and frames, install bee packages and a whole lot more!

Bee Lab is included in your class fee. More Bee Lab information will be provided at your class.
Instructor: Danny Najera, PhD Entomology is our lead instructor for the Backyard Beekeeping classes! Danny is an instructor in Biology at Green River Community College and is a current PSBA Board Member. If you've ever heard Danny speak at a PSBA meeting, you know how passionate he is about honey bees and teaching others – not to be missed!
Our intention is to teach students the basics for a successful start as a backyard beekeeper. Of course, the more you learn, the more you realize there is to be learned!
---
Classes are held at the following locations (please make sure you make note of your class location when you register!)
Please bring something to take notes with and a snack.
---
PSBA's 2015 Class Dates and Times – Three Options:
Session One:
Class One (indoor class) – Saturday February 28  inside the large meeting room at Graham Visitor Center, Noon to 4 pm
Class Two (indoor class) – Saturday March 7th inside the large meeting room at Graham Visitor Center, Noon to 4pm
Bee Lab: All students from each of our Backyard Beekeeping classes will join together for one learning-packed day on Sunday, April 26th, from 11am – 2pm.
Register for Session 1
Session Two:
Class One (indoor class) – Saturday March 21 Center for Urban Horticulture Douglas Classroom, Noon to 4pm
Class Two (indoor class) – Saturday March 28 inside the large meeting room at Graham Visitor Center, Noon to 4pm
Bee Lab: All students from each of our Backyard Beekeeping classes will join together for one learning-packed day on Sunday, April 26th, from 11am – 2pm.
Register for Session 2 
Session Three:
Class One (indoor class) – Saturday April 11th inside the large meeting room at Graham Visitor Center, Noon to 4pm
Class Two (indoor class) – Saturday April 18th Center for Urban Horticulture Douglas Classroom, Noon to 4pm
Bee Lab: All students from each of our Backyard Beekeeping classes will join together for one learning-packed day on Sunday, April 26th, from 11am – 2pm.
Register for Session 3
 
If you have any questions, please contact our treasurer at treasurer@pugetsoundbees.org